SEPTEMBER 6, 2023
PRITZKER USING HIS BILLIONS TO EXTERMINATE ILLINOIS' REPUBLICANS
Call him the Orkin Man of Illinois politics. Governor JB Pritzker (D) knows pests when he sees them and is eagerly and gratuitously using some of his $5 billion fortune to exterminate them. In other words, fumigate the state and eradicate every one of those annoying Republican pests already bordering on the extinct. And also keep himself in power.
Imagine the apocalyptic sputtering and livid outrage of the media and the Far Left if a billionaire Republican was using his money to exterminate "progressive" Democrats. They would wail that it's a threat to democracy. But it's quite OK if a billionaire Democrat spends his money to elect Leftist Democrats who will tax all those bloated capitalistic Republican billionaires. That's "democracy in action," they say. But don't "soak" OUR rich. Of course any party in power tries to exterminate their political opponents. Trump did it. Biden is doing it. So JB Pritzker is doing it as well.
Pritzker, age 58, is the epitome of pampered rich White privilege based entirely on his DNA. His father founded the Hyatt Hotel chain. Young Pritzker became a multi-millionaire by inheritance and then a multi-billionaire by using that dough as a investment banker. The family always donated copiously to Democrats. Sister Penny was rewarded by being U.S. Commerce Secretary in the Obama Administration.
JB self-funded $75 million to be elected governor in 2018 and over $135 million in 2022. Now he wants to be president. Not a chance. JB makes Ron DeSantis look positively charismatic. (As an aside, remember that J.B. bought the mansion next to his Gold Coast mansion and then ripped out the plumbing to make it "unlivable" and cut its property taxes.) If he goes national the media will certainly scrutinize his income tax payments. Did he pay his FAIR SHARE? And let's hope he avoids any Biden-like TV clips of him around some beach.
In fact, as detailed in the adjoining chart, Pritzker's campaign committee raised  $62,417,194 in the year ending June 30, of which $62 million came from JB's pocket. He'll fork over $100 million by Nov. 2024. That's like 0.02 percent of his wealth, mere chump change. All this trickles down, first to the state Democratic Party (DPI), which hires field operatives who recruit candidates and then fund and manage them. And also to the county parties, like in Cook County (CCDP), which dumped an in-kind $224,195 into Maggie Trevor's (D) 2022 9th District county commissioner campaign against Matt Podgorski (R).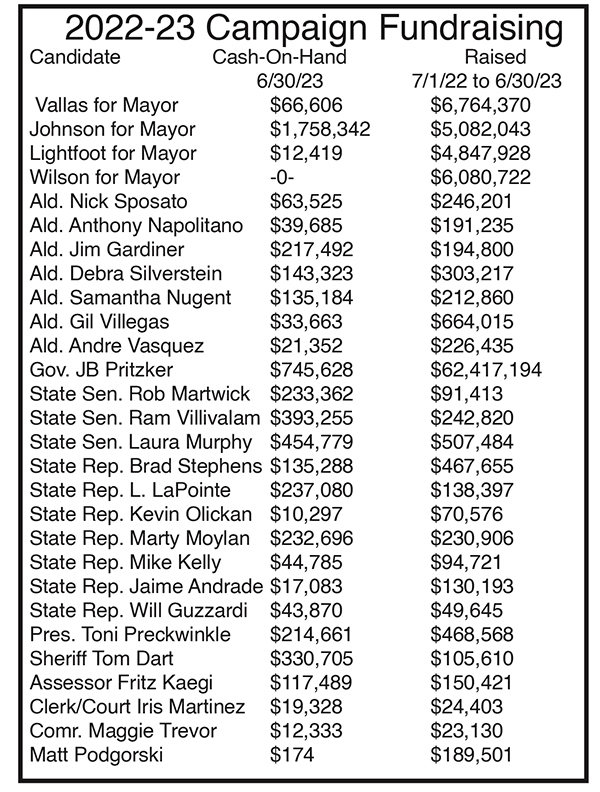 CCDP paid for mailings and media. Trevor, of Palatine, raised an anemic $23,130 (see chart), while Podgorski raised $189,501. Podgorski lost by just 1,470 votes, wiping out NWSGOP, Podgorski's grassroots Republican precinct operation. The last area Republican standing is state Representative Brad Stephens (R-20), Rosemont's mayor.
TARGETING STEPHENS: The Democrats hold 78D-40R and 40D-19R super-majorities in the IL House and Senate, respectively. Speaker Chris Welch (D) raised $11.7 million in the past year, with $1.9 million on-hand, and Senate president Don Harmon (D) has $8.1 million on-hand. Word in Springfield is that Welch/Pritzker are targeting eight Republican House seats in 2024, including those of Stephens and recently-resigned Republican leader Jim Durkin, of Western Springs. Durkin's PAC raised just $96,308 for Republicans in the past year but Durkin bailed.
"They have no money," state Representative Marty Moylan (D-55), of Des Plaines, said laughingly of Republicans. "And they're going to get crushed (in IL) with Trump on the ticket." Moylan, who beat Podgorski protégé Mike Lupo (R) by 2,634 votes in 2022, raised $232,696 and has $230,906 on-hand. He won't need Welch's money. A 2024 rematch won't even be close.
Stephens was unopposed in 2022, but still raised $467,655 and has $135,288 on-hand. Welch is looking for somebody (D) to oppose Stephens in 2024, the purpose being to make Stephens and the Republicans spend their money in the 20th District, not elsewhere. The House may be 86D-32R in 2025. For Republicans, it will be the House of Shame. Pritzker will be telling Welch and Harmon what to do, and they will be telling their called legislators how to vote.
WILLIE, OH WILLIE: Some politicians are pesky, some are just pests. Willie Wilson is both, at a cost of nearly $20 million since 2012. Wilson, age 75, an entrepreneur who made his fortune in medical equipment and McDonald's franchises, ran for mayor in 2015, 2019 and 2023 getting, respectively, 10.7, 10.6, and 9.1 percent. His strategy was to spread his money around among Black city churches and, during COVID, provide free masks and gas.
Wilson got an aggregate of 161,599 votes in those 3 races, amounting to about $124-per-vote. Wilson loaned his campaign $5,705,794 in 2022, spent 4,104,202, and repaid himself $1,814,534 after zeroing his account. What good is having money if you can't waste it? Hell, even I thought he would go further for mayor in one of my columns.
WILL JIM GARDINER SPEND IT ALL? The 45th Ward alderman got himself re-elected by 1,274 votes on April 4 over Megan Mathias and has $217,492 still on-hand. But that is meaningless. No amount of social media or mailers is going to persuade any progressive to vote for Gardiner for committeeperson in the 2024 Democratic primary, nor a Trump Republican to cross-over. Michael Rabbitt (D) is running and he had $4,220 on-hand, left over from his 2022 state rep race.
NO RETURN TO SENDER: Special interests, corporations and individuals donate so as to have access to and influence with elected officeholders. Like buying their vote. But what happens when the recipient retires or gets indicted? We all know what happens in the latter: The cash is spent on legal fees. Ex-alderman Ed Burke ripped through about $2 million in legal fees, still raised $163,160, and has $8,555,722 on-hand. Yeah, you read that right. Ex-speaker Mike Madigan ripped through about $1 million in legal fees, raised zero, but has $6,380,227 on-hand. 
Other happy walkaways are ex-state senator John Mulroe, who became a judge in 2019 and still has $355,683 COH and ex-state rep John D'Amico, who quit in 2021, but still has $297,801.
Ex-aldermen Marge Laurino and John Arena have, respectively, $16,776 and $1,042. Federal and State law prohibit the use of campaign funds for personal benefit, as Jesse Jackson Jr. and wife discovered.  But paying lawyers and donating to charity are OK. Hope lots of charities are reading this.
On the 2024 Watch List are state reps Jaime Andrade, Kevin Olickal and Clerk of Court Iris Martinez, all with under $25,000 COH. They better step it up real quick.
Read more Analysis & Opinion from Russ Stewart at Russstewart.com
This column was published in Nadig Newspapers. If you, a friend or a colleague wish to be added to Russ's BUDDY LIST, and be emailed his column every Wednesday morning, email webmaster Joe Czech at Joe@Nadignewspapers.com