March 8, 2023
LIGHTFOOT, WILSON, GARCIA ARE 2023'S BIGGEST BUST-OUTS
by RUSS STEWART
A bust-out is a politician who spectacularly under performs. Like losing when expected to win. Or like losing hugely when expected to lose narrowly. That is in contrast to a breakout, when a politician through craftiness, design or just sheer dumb luck spectacularly over-performs.
MAYOR: You'd need most of your fingers and toes to count all of 2023's bust-outs – and among them are Lori Lightfoot, Chuy Garcia and Willie Wilson at the mayoral level. All spectacularly under-performed (see chart), with the mayor getting an anemic 16.8 percent, less than 2019's 17.5. Her vote shrank from 97,667 to 93,888.
Wilson, getting beat a third time, got just 9.2 percent, less than 2019's 10.6 and 2015's 10.7. His vote grew from 50,960 to 51,099, but shrank from 2019's 59,072. Garcia proved himself a faded powerhouse with just 13.7 percent, barely a third of his 33.6 percent in 2015; his vote shrank from 160,414 to 76,475.
But the mayor's race produced two breakouts – Paul Vallas and Brandon Johnson. In 2019 the "Four White Guys" (Daley, Vallas, Joyce, McCarthy) running got a cumulative 166,413 votes, or 29.1 percent. It was déjà vu all over on Feb. 28. Vallas, the only White candidate, got 184,526 votes, or 33 percent. Johnson, running as an unabashed Leftist progressive and CTU cheerleader got Amara Enyia's 44,580 2019 vote and slashed into Lightfoot's 2019 North Side and North Lakeshore White base. Johnson got 120,612 votes, or 21.6 percent. The 60-70 thousand Lightfoot lost she picked up in the Black wards, particularly the West Side, from among Toni Preckwinkle's  89,343 2019 base.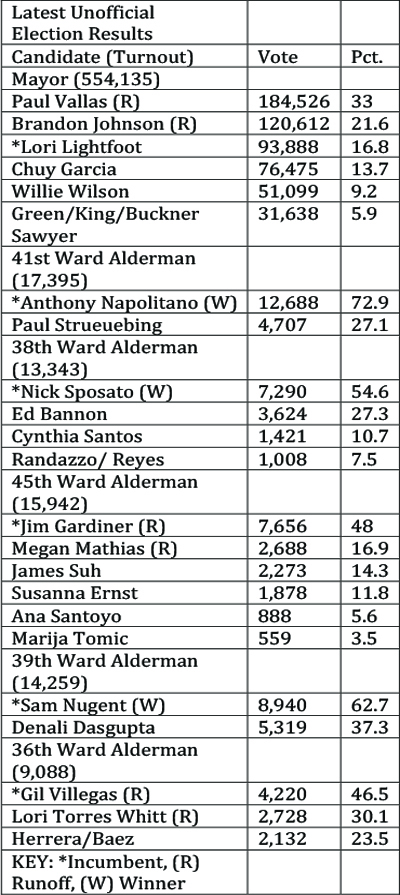 Outlook: If turnout is around 540,000 on April 4, Vallas needs to pick up slightly less than 100,000 to win, primarily from Southwest Side Mexican-Americans, while Johnson needs about 150,000 more, primarily from the 122,602 who backed Lightfoot and the other Black candidates. Johnson has no racial base, so he will have to play The Race Card to create one. The trades unions, who would have backed Lightfoot or Garcia in a runoff, will now come in heavy for Vallas.  Johnson is the one opponent Vallas can beat.
MAYOR: Here are three takeaways from Feb. 28.
LIGHTFOOT: She goes down as the worst-defeated Chicago mayor since the early 1900s. Jane Byrne got 33 percent in 1983 and Martin Kennelly 36 percent in 1955. To put it in perspective, 83.2 percent of the 559,135 turnout did NOT vote for her and 94.2 percent of the city's 1,581,564 registered voters did not vote for her or did not vote at all, and 96.7 percent of the city's 2,746,388 population did NOT vote for her.
Over her term Chicagoans developed a distinct perception of the mayor's persona, and they didn't like what they saw. Lightfoot was arrogant, intemperate, crude, and a bully.
She thought that because she was mayor she couldn't lose for mayor. After all, she could raise $5 million. As such, she developed no personal base (as in a likeability factor), no political base (as in a racial or Leftist ideological factor), and had no buffer zone to expect voter forgiveness for her screw-ups.  A "Fatigue Factor" set in. By 2021 voters just wanted to get her out.
She won a plurality in 17 Black wards, four with over 40 percent, and a majority in none, despite spending $4.8 million.. Lightfoot's under-performance went beyond defeat, beyond rejection. It was abject repudiation.
WILSON: Strike three, Willie. As they say in baseball, go grab some bench. The multi-millionaire Black entrepreneur spent around $6 million, all self-funded. He had three citywide mailings to 600,000 registered voter households, which was about $380,000-a pop, and numerous select mailings. He also spread his money around among Black churches and Black committeepersons (D). All for naught. He didn't top 26.1 percent in any ward. (Yeah, yeah, I had Wilson making the runoff in one of my predictions before the election. Maybe I was breathing the gas fumes from one of his gas giveaways.)
GARCIA: He really blew it. Had he foregone a 2018 congressional race and focused on a 2019 mayor run, he would have made the runoff, beat Preckwinkle, and be mayor now. Had he not dawdled throughout 2022 and played it safe, announced for mayor last summer (instead of late November), he would have sewn-up CTU, AFT, SEIU, UWF and other public sector unions and groups, plus a lot of trades. That would have pre-empted Johnson's candidacy and funding, which amounted to $2.6 million from CTU.
The two Latinos (Mendoza and Chico) running in 2019 got a combined 84,894 votes, or 15.3 percent – more than Garcia this time, despite his spending $2.7 million. At age 66, Garcia will hang around for another decade in Washington.  
45TH WARD: On the cusp of a bust-out is Alderman Jim Gardiner, who got 48 percent, amassing 7,656 votes in a 15,942 turnout. That's almost identical to 2019, when Gardiner topped John Arena 7,570-5,382 in a 14,858 turnout. Despite his 2021 texting controversy, which many voters neither know about nor care about, Gardiner's base is rock-solid.
On the cusp of the cusp is attorney Megan Mathias, who eked into the 45th Ward runoff with 16.9 percent (2,688). Mathias has been campaigning for 2 years, since 2021, has raised over $175,000, claims to have knocked on 10,000 doors, had seven mailings, was endorsed by the Chicago Tribune, Equity Illinois, the LGBTQ+ Victory Fund, got a bundle from the Operating Engineers' union and told me her polling put her at 35 to 36 percent. Plus, she went negative on Gardiner's crude texting. Despite all that, she finished only 415 votes ahead of James Suh (14.3 percent), who campaigned for 4 months, and 810 ahead of Susanna Ernst (11.8 percent).
If Mathias loses she will be 2023's biggest bust-out. How can 10,000 knocks (with digital follow-ups and mailers) equal to just 2,688 votes? But she made the runoff. And the presumption that somebody who gets close to 50 percent automatically wins is not always true, nor is the presumption that all the losers' voters automatically unite behind the runner-up always true. It will be interesting to see who the other candidates rally behind.
Alderman John Rice (36th), the puppet of the much-disliked Banks-DeLeo Machine, in 2011 topped then-firefighter and 2007 loser Nick Sposato 6,756-3,373, getting 48.1 percent to Sposato's 24. But then Sposato roared back to beat Rice 5,651-4,423 in the runoff, a 56.1-43.9 margin, picking up 32 points and 2,278 votes. The four losers' votes  (3,923) went entirely to Sposato. One-termer Mary O'Connor (41st) was Rahm Emanuel's puppet and got 47.7 percent in 2015, topping firefighter Anthony Napolitano 7,132-6,353, with 1,459 for Joe Lomanto. But then she lost the runoff 9,702-9,087, a margin of 51.6-48.4. Napolitano picked up 3,349 votes and won by 615.  
But Arena (45th) proved otherwise. He won by 30 votes in 2011, topped John Garrido 5,914-5,164 in the 2015 rematch, getting 45.4 percent and won the runoff 8,488-7,263, with 53.9 percent, upping his vote by 2,574.  "He (Gardiner) could very well lose," said Sposato.
Gardiner's problem is Gardiner. He went through a rough patch, said one source, and "he's distrustful, almost paranoid." He has a high staff turnover. He ran his own campaign. He had several mailers and door-to-door fliers. He is visible in the ward, but he wastes time knocking on every door instead of just the registered voters.
"He's got to step it up real quick," said Sposato. He reportedly is getting a campaign manager. Gardiner needs to turn out his base plus 500. Otherwise, Mathias will win. But Vallas will win the ward with 53-55 percent, helping Gardiner.
Read more Analysis & Opinion from Russ Stewart at Russstewart.com
This column was published in Nadig Newspapers. If you, a friend or a colleague wish to be added to Russ's BUDDY LIST, and be emailed his column every Wednesday morning, email webmaster Joe Czech at Joe@Nadignewspapers.com