October 20, 2021
BILLIONAIRES BATTLE AND MONEYMATTERS IN UPCOMING 2022 CONTESTS
It is a political maxim that money talks and (expletive) walks. The adjoining 2021 fund-raising chart shows who is NOT walking as the 2022 and 2023 election cycles approach.
The COVID-19 pandemic put a serious crimp into 2020 fund-raising, which has abated somewhat during 2021. In-person events are only slowly re-emerging. Illinois' campaign disclosure law requires quarterly reports by all candidates, committees and incumbents, known as D-2s. A review of the 3rd quarter (July 1-Sept. 30) had several highlights.
CHICAGO MAYOR: Lori Lightfoot had $1,138,564 on-hand and raised $56,300 thus far during 2021. But you can't beat somebody - even somebody who is increasingly unpopular - with somebody who is under funded. And somebody who is mayor can raise $10 million in a flash. Don't believe for a second that anybody who IS mayor doesn't want to STAY mayor. Unless, you're Rahm Emanuel and can see the writing on the wall.
To be sure there is dissent from Lightfoot's COVID shutdowns, mask edicts and out-of-control crime. Federal money allowed a $16.7 billion city budget that delayed any property tax hike until 2023, after the municipal election. And there is still no credible anti-Lightfoot candidate or movement, though police officers and fire fighters seem to hate her guts.
Paul Vallas, who lost in 2009, was a FOP consultant in the recent CPD contract negotiations. But he has raised no money for 2023, and shutdown his 2019 committee. Southwest Side alderman Ray Lopez (15th), who regularly bashes Lightfoot in the council and on FOX News, had $21,895 on-hand. His ward is half-African-American, and what he really wants is most of Ed Burke's 14th Ward, a supermajority Hispanic ward and another term.
FOP president John Catanzara, who urged his rank-and-file to eschew vaccinations, is marginalized. He would get 3 percent, like Garry McCarthy in 2019. Northwest Side alderman Gilbert Villegas (36th), formerly Lightfoot's floor leader, has retained Daley-era insider Victor Reyes as a 2023 consultant. But he had only $77,572 on-hand. A Latino Wave may surface sometime in the late 2020s or 2030s, but not in 2023. And when it does, it will likely be Clerk of Circuit Court Iris Martinez who rides it, not Villegas or Lopez.
Two members of the council's Democratic Socialist Caucus - aldermen Carlos Ramirez-Rosa (35th) or Rosanna Rodriguez (33rd) - could run. They would have the support of AOC and Bernie Sanders. That has to be worth 3 to 4 percent.
And county board president Toni Preckwinkle, age 74, had $175,282 on-hand. Preckwinkle got 18 percent in the 2019 runoff. Preckwinkle is still county Democratic chair, will have no intra-party opposition in 2022, and will focus on beating Assessor Fritz Kaegi (who had $1,052,163 on-hand) with MWRD president Kari Steele, a South Side Black ally (who had $40,059 on-hand).
County Commissioner Bridget Gainer, who had $561,995 on-hand and who hoped to run for Preckwinkle's job, must now wait for 2026. Her north Lakefront 10th District was moved farther west beyond the 39th Ward into half of the 41st Ward. Steele is positioning herself to run for mayor in 2027 or for board president post-Preckwinkle.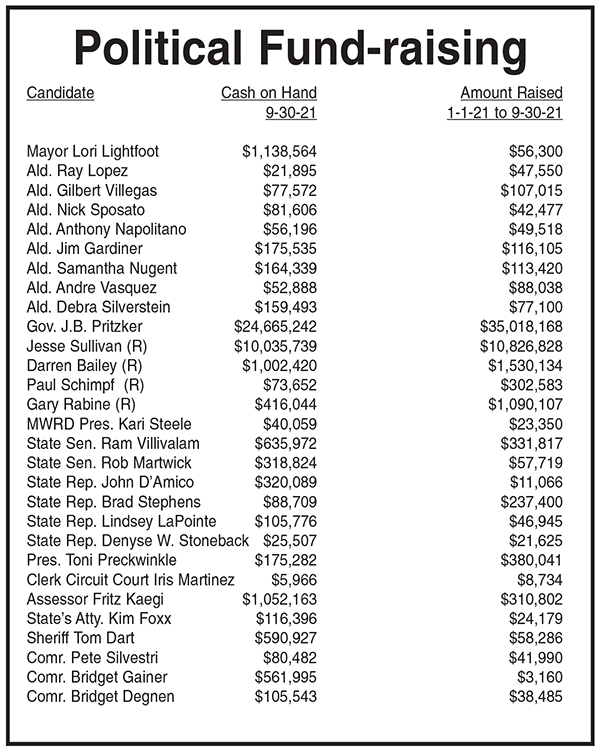 COUNTYWIDE (2022): The marquee race will be Kaegi-Steele, which is pure identity politics. It's a wealthy suburban White guy versus a city Black woman. If Kaegi gets dumped in December, he will be doomed unless he raises another $2 million. Sheriff Tom Dart had $590,927 on-hand, but faces problems. The first three are June 28 primary opponents - Carmen Navarro-Gercone (zero on-hand), LaTonya Ruffin ($40,902 on-hand) and Nicolas Zeyadeh ($500 on-hand), all ex-sheriff employees.
The fourth problem is positioning. In times past a sheriff postured as "tough on crime."
Now, especially in a Left-dominated primary, Dart must be seen as compassionate. The County Jail inmate population has dropped from 12-15,000-per-day to under 5,500. Criminals are more likely to get out than to get locked up. Dart needs to redefine himself. But he will be saved by having a divided unknown field and will win with 50 percent.
GOVERNOR: If there were a "Donor of the Year" trophy, then J.B. Pritzker would be both the payer and the player. He gave himself $35 million on March 12 and had $24,665,542 on-hand. As an afterthought, he also raised $18,168. Who gives money to a guy with a net worth of $3.6 billion? The real question is where did he spend $10.4 million in 6 months?
It was on "party building," which means payroll, rent, consulting, polling and donations. Pritzker spent $80 million in 2017-18. He will be close to $125 million by the end of 2022. What Pritzker is doing is paying other people to play on his team.
Republicans think they have a path: Nominate a rich guy who is unconnected to Trump. That would be Jesse Sullivan, an "enterprise capitalist" who was born in Petersburg but made his money on the West Coast. He raised $10,826,828 in the 3rd quarter and is now all over TV with ads complaining of Illinois' "high taxes, corruption and crime."
Sullivan has three Trump-adoring opponents: Wealthy Bull Valley construction magnate Gary Rabine ($416,044 on-hand), state Senator Darren Bailey ($1,002,420 on-hand), who sued Pritzker for his COVID shutdowns, and ex-senator Paul Schimpf of Waterloo ($73,652 on-hand). Do Republicans want a inner or a purist? Thus far Sullivan is the one least likely to lose the worst.
ALDERMEN: Jim Gardiner's (45th) texting tirades have cost him credibility. But he has apologized and gone-to-ground, expecting this to be forgotten by 2023. But it won't. His fund-raising, which was a robust $114,004 in the 3rd quarter atop $103,530 in the second, will suffer. The bulk of his cash came from trades and first-responder unions (Gardiner is a firefighter).
But the fact is that nobody wants to waste money on a losing candidate, especially one who has drawn Lightfoot's ire, is the constant target of neighborhood blogs, and a regular fixture in the newspapers.
The 4th quarter, ending Dec. 31, is absolutely critical. Gardiner needs to raise another 100,000, adding to his $175,535 on-hand. His announced opponent is Megan Lopp Mathias, who had $38,692 on-hand. She is a threat. What is more a threat is that the council remap, due in December, could put his Rosedale Park home into the 39th Ward and/or that a public sector union like SEIU spends $5 million-plus to beat him if the ward stays intact. They did so for John Arena in 2011 and 2015. The union and the area's Left-wing will find and fund a Portage Park candidate, possibly state Representative Lindsey LaPointe. She'd be one of their own. After all, Arena essentially got her the state rep job the first time around, when she was appointed.
Other aldermen are secure, largely because each have a non-tinkerable ward at the border, and each has some decent cash-on-hand. All intend to run in 2023.
STATE LEGISLATORS: A lot has changed in Springfield, most notably the disappearance of Mike Madigan and appearance of COVID. State Representative John D'Amico (D-15) is an example. He has $$320,089 on-hand, but raised $11,066 in 2021, meaning no events. Madigan used to "park" union funds in various legislators' accounts, and then spend them on other races. That's over. But D'Amico is safe. State Senator Rob Martwick (D-10) has $318,924, but raised $57,719. LaPointe (D-19) has $105,776. Republican Representative Brad Stephens (R-20) has $88,709 and raised $237,400.
But the area's "fund-raising superstar" is state Senator Ram Villivalam (D-8) who had $635,971 and raised $331,817. Keep an eye out for him.