Sept 22, 2021
GARDINER'S TEXTING TEMPEST IS ALL ABOUT REVENGE, REMAP
As it is said over and over, "it ain't over until it's over."
That pithy redundancy, if applied to embattled 45th Ward alderman Jim Gardiner, could be construed as either terrific or terrible.
Sure, Gardiner can rejoice knowing that objectionable and demeaning private texts, however revolting, have not yet been criminalized. It is still deemed free speech under the First Amendment, even though those abusive texts are misogynistic.
I don't know if Gardiner hates women or not, but many seem to think so and have labeled him guilty.
One thing is clear, this is not just a dust-up which will fade after the next news cycle, nor just a temporary political challenge.
Having texted privately that certain female city council staffers and constituents were "b*****s" and "c***s," the backlash and counter-assault has begun and will be relentless.
And it won't end until he's gone.
"He had become the city council's Trump even before he was in office," said Alderman Nick Sposato (38th). He added that "the lefty loonies of the 45th Ward" were attacking him before he was sworn-in as alderman in 2019 and that there have been many anonymous anti-Gardiner social media accounts created to attack him.
In the short term, Gardiner's career is not over. Many other aldermen have committed far worse "sins," some are even walking around the council chambers facing indictments. Some even get re-elected while they are indicted.
Unless the feds or the Inspector General find something that can criminally stick, Gardiner will remain in office until May of 2023. But what IS OVER, and what Gardiner cannot rejoice about, is his grace period.
He's been alderman for 29 months and he's not done much to expand his political base. He upset predecessor John Arena in 2019 with 50.1 percent, and won the Democratic committeeperson's post in 2020 with 51.3 percent (see chart). Gardiner incurred the implacable hatred of 35 to 40 percent of the ward's electorate by beating Arena, much like Trump did by beating Clinton. The text tempest hardens that hatred. And they sense blood in the water unlike what those signs say that "Hate has no home here."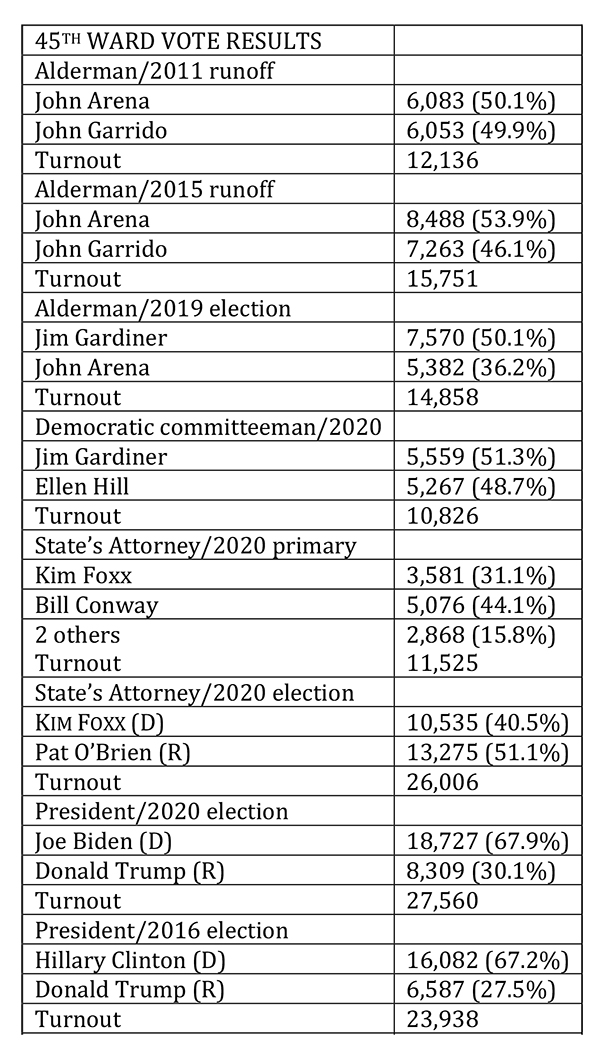 Add in a constant anti-Gardiner drumbeat on social media that has the Arena base angry and motivated, and everyone should grab some popcorn. This is gonna be interesting.
THE RETRIBUTION: An apology is defined as an expression of regret and plea for pardon, an acknowledgement of some fault, injury or insult. Gardiner did make a statement of apology to the people he offended but some have called it not enough.
Mayor Lori Lightfoot then quickly piled on, demanding an investigation by the Inspector General. Then, according to the Chicago Tribune, the FBI started sniffing around.
This is some serious stuff - not necessarily because Gardiner actually DID something criminally wrong, but because it creates the perception of possible wrongdoing, and in this day and age sometimes that's all it takes.
A condemnation of his actions and his words was recently signed by all 15 female aldermen on the council, including Samantha Nugent (39th).
Gardiner's response has been to become a ghost. He is not returning calls, including mine, and the rest of the city's reporters. That's not a good problem to have, to have a slew of journalists breathing down your neck. He needs closure, which means no more publicized texts and a movement to the next news cycle.
While the alderman may have gotten used to functioning in a testosterone-soaked environment as a firefighter, the City Hall's patriarchy has been largely replaced by a woke matriarchy.
Gardiner's pro-police stance does not help him either in this situation.
THE MAP: The most expeditious way to punish Gardiner is to dismantle his ward. And that could occur by Dec. 1, the deadline by which the council must pass a remap. It will take 41 votes to do so, and Gardiner is not a member of the Black Caucus (20), the Latino Caucus (13), the Socialist Caucus (5) or the informal "women's caucus" (15) all of whom want to protect their incumbents.
Gardiner resides in north Gladstone Park, just a half block south of Peterson Avenue and 2 blocks east of Nagle, the ward's north and west boundaries. A new map could put all or part of Gladstone Park into the 39th or 41st wards. That would be politically fatal unless he is willing to relocate his home.
Chicago's population was 2,695,598 in 2010, which broke out to 53,911 people per ward. The 2020 census put the city at 2,746,388, which now means 54,928 per ward. But the wards did not stagnate, nor did the demographics. Overall, the White and Hispanic population grew and the Black population shrank. The Southwest and far West Side has become more Hispanic; the near west and south Loop has become more White; Hispanics are dispersing into outlying White areas; and the White population is surging along the Lakefront, both north and south.
The map, effective 2023, will be drawn by the Rules Committee chaired by Alderman Michelle Harris, Lightfoot's floor leader. The map must be passed with 41 votes; if not, state law requires a citywide referendum on any map that is approved.
Three factors are paramount, said Alderman Gilbert Villegas (36th). Data, the federal Voting Rights Act, and incumbent input. The census data is available. The VRA has a non-retrogression clause, which means once a majority-minority ward is created it cannot be diluted, or put under 45 percent. So Black- and Hispanic-majority wards remain forever, with "packing" and non-compactness permissible. There are now 17 White aldermen, and certainly enough White voters to create 19 White-majority wards; but the VRA creates a legal roadblock. Senior incumbents will have input. Gardiner will be ignored.
The data shows the Gold Coast 42nd Ward, which runs from Van Buren to Chicago Ave., had a population spike of 28,009. All the Lakefront wards from Lincoln Park's 43rd Ward to the 50th in West Rogers Park had increases of 4-5,000, with 4,940 in the 50th Ward. The south Loop 2nd Ward grew by 7,307, the south Lakefront 3rd by 8,398, the 4th by 5,794 and the 5th (Hyde Park) by 4,210. The west Loop 27th was up nearly 5,000.
On the Northwest Side the 41st Ward grew by 3,486, the 38th by 2,043 and the 45th by 2,082, but the 39th by only 177. Villegas's 36th is down by 586 and the 33rd is down by 1,236. If the 45th Ward redraw lops off Gladstone Park (north of Foster) and gives it to 39, then parts of Albany Park could go to 33rd, with parts of 33rd going to a new Portage Park/Independence Park/Jefferson Park 45th - which a woke left-leaning candidate would win, maybe even Arena. Megan Lopp Mathias is already running.
THE OUTLOOK: As of June 30, Gardiner had $173,010 on-hand, and raised $103,530 in the second quarter. The rap on Arena was that he was vindictive, a bully, and contemptuous of his critics. He called Trump supporters Neanderthals and knuckle-draggers. Some of his opponents didn't appreciate the things he did for the ward and that's why he got 36.2 percent in 2019.
In 2011 Arena won 33 of 53 precincts and won big south of Lawrence. In 2015 he won 32 of 48 precincts; in 2019 he won 8 precincts, all south of Lawrence and by reduced margins. In 2020, Gardiner won 30 of 48 precincts, none south of Lawrence. Gardiner is toast without Gladstone Park.
Gardiner's future depends on the new map, and not on the FBI or the IG, unless, they find something of criminal substance.