June 3, 2020
HUGE HISPANIC TURNOUT, DNA, TOO MANY MEN CLINCH MARTINEZ 31.3% VICTORY IN CIRCUIT COURT CLERK RACE
ANALYSIS & OPINION BY RUSS STEWART
"I don't owe anything to anybody," boisterously proclaimed state senator Iris Martinez, Cook County's incoming Clerk of the Circuit Court.
But there are two exceptions: There is the debt owed to her Puerto Rican parents, who's DNA provided the XX chromosomes that made her a Latina – a Hispanic woman. And there is the debt owed to a fortuitous and serendipitous confluence of 2020 circumstances, which benefitted her mightily. Martinez won the March 17 Democratic Clerk primary with 31.3 percent, defeating three men (one black), including the slated Democrat. The three men got a combined 68.7 percent (see chart), but split it almost evenly.
"I won," said Martinez, "because voters wanted a woman of color."
The 2020 primary turnout for Clerk was 861,814, which was 220,221 less than 2016's 1,082,034, when incumbent Dorothy Brown won with 44.1 percent. According to the final tally, Martinez topped the field with 269,576 votes, to 216,181 (25.1 percent) for party-slated Mike Cabonargi, a Board of Review commissioner from the North Shore, 199,526 (23.1 percent) for Richard Boykin, a black former county commissioner from Oak Park, and 113,855 (13.2 percent) for Jacob Meister, a gay lawyer who ran in 2016 (getting 20.5 percent against two black women – Brown and the slated Michelle Harris.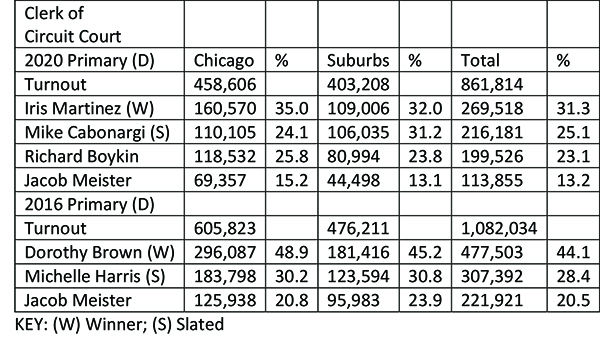 "Neglect, mismanagement and corruption have plagued" the Clerk's office "for decades," said Martinez, pointing a finger directly at 20-year predecessor-to-be Brown, an African-American  Democrat who has served since 2000, and indirectly at white Brown predecessors Aurie Pucinski (1988-2000), Morgan Finley (1975-1988) and Matt Danaher (1964-74). Danaher was under indictment when he died. Finley was convicted of racketeering and attempted extortion after he left office. The feds have been poking around Brown's office for over a decade. "The status quo is not acceptable," said Martinez, an 18-year senator from the area around and south of Albany Park.
The rap on the Clerk's office and operation is that it is antiquated and inefficient in the digital era, especially now with courtroom zoom appearances looming. Its job is document management and retrieval, with 30 million paper documents filed per year and 25,000 new cases filed per month, with attendant answers and motions. This paper deluge is put in paper files and some digitized. These files must be physically delivered daily to 500 civil, criminal and traffic courtrooms because their contents are not digitized.  "There are severe problems in getting the right files to the right courtrooms in cases affecting the most vulnerable," Martinez said, such as those handling criminal, juvenile, domestic violence and orders of protection. "Lives are being negatively impacted."
The problem, Martinez acknowledged, can be summed-up in 4 words: High Tech/Low Pay. The Teamsters are the collective bargaining agent, and the union contract has expired. Pay for entry level G-15 to G-18 spots for courtroom, desk filing and data entry clerks starts at $750/week, or $36,000 per year. That doesn't attract the best and the brightest.
The Clerk has a $130 million budget and until recently had 2,000 employees, but the ongoing spat between Brown and Toni Preckwinkle got 800 of those jobs transferred to the Office of the Chief Judge, run by Tim Evans, a Preckwinkle ally. That spat spilled over into the 2016 primary, when Preckwinkle backed Alderman Michelle Harris (8th), helped her raise close to $2 million, and Brown trounce her by 170,111 votes (see chart).
With Brown bailing as the feds' probe intensified, Preckwinkle (now party county chair) helped facilitate Cabonargi's slating for Clerk. There was grumbling among black committeepersons about losing some of their office patronage jobs and among the politically-correct by replacing a black woman with a white man. But Preckwinkle noted that most black-held jobs had been shifted to Evans' office, and that Cabonargi was competent, electable and had a "reformer" image – even though he had (as Meister pointed out) raised over $1.4 million since 2011, mostly from tax appeal lawyers, and had over $500,000 on-hand. Not unexpectedly, the candidacies of Meister and Boykin screwed-up Preckwinkle's best-laid plans, with Boykin cutting into the machine base on the South and West sides, and south suburbs, and Meister draining liberal votes from Cabonargi along the Lakefront and North Shore.
Even if one or neither ran, it is inaccurate to presume a Cabonargi win. He was unknown, uncharismatic, and just plain dull. He spent over $700,000, most late in the campaign, with a muddled message. The Clerk's office is clerical, not policy-making, so voters (unlike lawyers) have little contact with, interest in and/or understanding of the job. Since Brown was not on the ballot and hadn't been indicted, there was no controversy to elevate voter attention. The primary was a CHOICE among four unknowns.
None of the Clerk candidates had a proven voter base, either geographic, ideological or racial. Meister had run and lost in 2016 (with 20.5 percent). Cabonargi had run twice for the BOR in the north third of the county. Martinez was a senator in the Albany Park-Logan Square area. Boykin got booted from his West Side county board district in 2018 after vociferously opposing Preckwinkle's soda tax; she and the CTU spent a lot of money to beat him.
But they ALL had perceived demographic bases: Cabonargi with voters who habitually back the party slate, usually 25-30 percent, and on the North Shore where he resides. The slated Harris got 28.4 percent in 2016 and Cabonargi 31.2 percent. Meister with gays and near North Siders. Martinez with Hispanics in particular, who are a third of the population but 10-12 percent of the voter pool, and women in general. And Boykin, with appeal to West Side blacks in particular (he was Danny Davis's congressional aide) and blacks in general.  
Each candidate's goal was to finish first in their own demographic, and second everywhere else. Martinez did exactly that.
In the 18 black wards, where turnout was 168,365, Boykin finished first in every ward – but not by much. He got 50-55 percent in 9 wards and 40 percent-plus in 5. His 78,035 votes, or 46.3 percent, doubled Martinez's 39,961 (23.7 percent) and Cabonargi's 35,106 (20.8 percent). In Preckwinkle's home 5th Ward, the vote was 4,128 (Boykin)/2,926 (Martinez)/2,704 (Cabonargi). By comparison, Kim Foxx got 151,068 votes in those wards. In the 6 black suburban townships (Thornton, Bloom, Bremen, Rich, Calumet and Proviso), where turnout was 111,694, Boykin got 38,977 votes (34.8 percent) to Cabonargi's 27,268 and Martinez's 25,599. Foxx got 74,480 votes. To have won Cabonargi needed a third of the black vote. He and Martinez each got just over a fifth. Boykin was the spoiler, with much of his vote coming from the churchgoers who backed Brown in the past.  
Martinez swept to a solid victory In the 12 Hispanic wards, where turnout was 77,437, and she got 44,125 votes (59.4 percent). She got over 60 percent in 4 wards (12, 22, 30 and 31) and 50-59 percent in 7 (10, 14, 15, 25, 26, 35 and 36). Martinez got a whopping 76.9 percent in the 6 Hispanic townships (Cicero, Berwyn, Hanover, Schaumburg, Stickney and Riverside). Her base delivered. She topped Cabonargi countywide by 53,337 votes; she topped him by 45,944 in Hispanic areas.
In the 10 Lakefront/north Riverfront wards, where turnout was 115,175, Martinez got a 36 percent plurality, getting 41,549 votes to 26.3 and 22.5 percent, respectively, for Cabonargi and Meister. Martinez, as a Latina, had gender appeal, and got 33-38 percent in 8 wards, and 54.4 percent in her home 33rd. She topped Cabonargi by 11,147 votes. In the suburban liberal bastions of Evanston and Oak Park, Cabonargi beat Martinez 11,596-8,673, but he lost the suburbs overall by 109,006-106,035.
And his city firewalls crumbled. Cabonargi won the Southwest Side wards (11, 13, 19, 23) 14,671-13,940 over Martinez, with his best ward the 19th (41.7 percent), but he lost the Northwest Side (wards 38, 39, 40, 41, 45 and 50) 20,937-17,457, with his best ward the 41st (42.6 percent).
As Martinez proved, sub-bases are bases.
E-mail Russ@russstewart.com or visit his website at www.russstewart.com.