May 27, 2020
"CRIMINAL MANIFESTO" PLAYS MAJOR ROLE IN EASY FOXX WIN
ANALYSIS & OPINION BY RUSS STEWART
Let's just be nice to each other. That's the essence of a crime-fighting strategy known as the "criminal justice manifesto," a theory promulgated by a group of academics that believe that the "over-criminalization" of the country's justice system since the 1960s has precipitated rising levels of crime and violence. There is a "hurricane of crime," they observe.
They contend, however, that all will be well if punishment is replaced by therapy, deterrence with forgiveness, prosecutors with social workers, correctional officers with counselors, jail with job-training, arrestees let loose on I-bonds, accused and convicted felons put on electronic home-monitoring, sentencing harshness and personal accountability with leniency, and bureaucratic statutory law enforcement with democratic and politically-correct sentencing. Shorter sentences for felons. And justice is replaced with coddling for everybody.
I remember that once it was "commit the crime, do the time." Now it's "commit the crime, do some therapy." The theory I'm referring to was published by Joshua Kleinfeld in 2017 by the Northwestern University Law Review entitled the "Manifesto of Democratic Criminal Justice." It avers that American justice is "in a state of crisis," that it "ignores the root cause of crime," and that "it lacks respect for human rights" under the Bill of Rights and the Constitution's 4th, 5th and 6th amendments, and particularly the 8th, which forbids cruel and unusual punishment. Mass incarceration, prison conditions and policing procedures are, they say, all evidence of "racial injustice." The manifesto proclaims the dichotomy as "severity versus reform," and urges America to "go in the direction of greater mildness" in treating lawbreakers.
They claim that 1 of every 132 persons in America are currently imprisoned, and that 1 of every 31 have been either in prison, on parole or on probation. Given America's population of 330,801,136, that means 250,000 are in the slammer and 1,070,000 are in the system. In Cook County, these numbers would be 40,000 and 168,000.
Who subscribes to this gibberish? This world of fantasy? Actually, billionaire George Soros and his Illinois Safety & Justice PAC, and Cook County State's Attorney Kim Foxx, who got comfortably re-nominated on March 17 in large part due to the $2 million in campaign cash provided by Soros and $2 million from Cook County board president Toni Preckwinkle and her union allies, as well as a vote from her South Side Chicago and south suburban African-American base, a white liberal Lakefront and North Shore vote, and an inept campaign by Bill Conway.
As detailed in the chart, Foxx beat Conway by 171,683 votes (447,974-276,291) in a 917,813 turnout, getting 48.8 percent countywide to Conway's 30.1 percent. The also-rans were Donna More and Bob Fioretti, getting, respectively, 122,528 and 44,799 votes. The total anti-Foxx vote was 443,618 on March 17, but add to that the non-voters, which numbered 2,176,912 out of 3,094,725 registered voters, and the anti- and non-Foxx vote totals 2,620,530. Her 447,974 votes were just 14.5 percent of all registered voters - so her win was hardly a mandate for her tenure, her policies, and for the "criminal manifesto."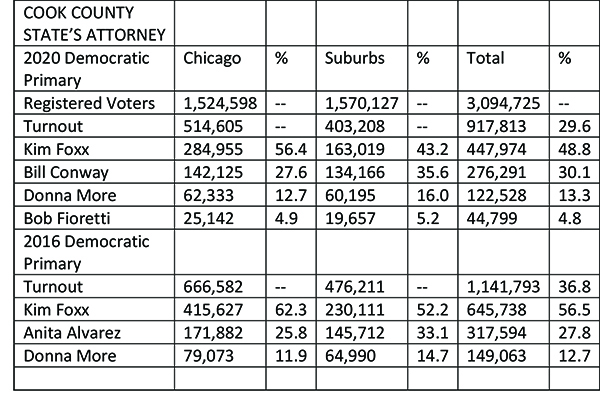 Also noteworthy was the fact that, compared to 2016, 2020 turnout was down 223,980, possibly because of the coronavirus. Nevertheless, Foxx's vote was down by 197,764 from 2016, but the anti-Foxx vote was down by just 23,039. Foxx's vote in Chicago declined from 62.3 to 56.4, and in the suburbs from 52.2 to 43.2 percent.
Foxx won in 2016 because her opponent was incumbent Anita Alvarez, who was tarnished during the lackadaisical prosecution in the Laquan McDonald shooting/murder.
Alvarez got 317,594 votes, or 27.8 percent - a decisive rejection fueled by voters. Alvarez spent about $2 million, and got the bulk of her vote from conservatives and cops. Which begs the question: How and why could Conway, who has a billionaire father who donated $5 million and spent close to $8 million, do worse than Alvarez? He got 41,303 fewer votes.
ISSUES AND STRATEGY: A campaign that obfuscates and equivocates is a campaign that loses. Conway had no local roots, no base, and a flimsy resume. He spent 10 years as an assistant state's attorney in the state's attorney's office prosecuting misdemeanors, and then moved to financial crimes. If Conway is a lightweight, Foxx is a welterweight. She had 12 years as an ASA in the child support division, 2 years in felony review, then on to being Preckwinkle's chief-of-staff. That gave her a political base. "Neither had any felony trial experience," said More, a former federal prosecutor.
Conway's lavish campaign was run by outsiders, said political consultant Frank Calabrese. All decisions were contingent on focus groups, he said. Three buzzwords were deemed politically safe: Progressive, guns and domestic violence. Not safe was Jussie Smolett. Not safe was attacking Foxx's competence, political ties, or felony conviction rate because that could be construed as putting people in jail. Tough-on-crime, throw the perps in jail - that was unsafe.
So Conway went soft and mushy. And so did his anti-Foxx base. Hybrids don't sell. By the end of the campaign there "was no enthusiasm" for Conway, said retired CPD lieutenant Mike Byrne. "What I don't understand," said More, "is when people want a doctor they choose the best, but when they want prosecutor, they don't choose the best." More added that Dan Webb was picked as special prosecutor for the Smolett case, where 16 charges were dropped. "He found evidence to re-indict. That's proof of wrongdoing" by her and the office. Nobody seemed to care.
BASE: Foxx's policy of dismissing misdemeanor arrests and setting no-bail I-bonds for felons, meant 85 percent-plus of arrestees were back on the streets quickly. The presumption was that voters in high-crime neighborhoods, with maximum gang activity, would boycott her. That didn't happen.
In 2016 Foxx got 231,218 votes in the 18 black-majority wards, which was 56 percent of her citywide total. In 2020 Foxx got 151,068 votes in those 18 wards, which was 53 percent of her total. Not only did African-Americans vote their race, but they gave Foxx her winning margin. Citywide Foxx beat Conway by 171,683 votes, and carried her city black base 151,068-22,128, a margin of 128,940. She got over 80 percent in 10 of the 18, over 70 percent in 6, with her lowest being in the 27th (66.4) and 3rd (69.2) wards. Conway got less than 1,000 votes, or less than 10 percent, in 10 of the 18 wards, with his best being 18.9 percent in the West Loop 27th Ward.
Losing by 7-1, down 129,000, Conway had to find a counter-veiling base elsewhere. There weren't any.
On the Northwest Side (wards 38, 39, 40, 41, 45, 50), Conway won 27,621-21,086, his best showing (7,413-1,923) in the 41st Ward with 61.3 percent, and 52.3 and 44.1, respectively, in the 38th and 45th wards. The More/Fioretti vote was 15 to 20 percent, hurting Conway, who got bombed in the 40th and 50th. On the Southwest Side (wards 11, 13, 19, 23), Conway won 23,182-12,589.
In the 10 Lakefront wards, Foxx beat Conway 62,811-39,441, with 15 to 20 percent to More/Fioretti. Conway ran first in the 42nd (4,934-4,020) and 43rd (4,813-4,700) wards, but Foxx won 8, with outright majority in the 46th, 47th, 48th and 49th. Numerous mailings portrayed Conway as a Republican, since his dad is a Republican donor. In the 12 Hispanic wards there was an anti-Foxx sentiment. She won by only 37,609-29,553, with Conway carrying the 10th, 12th, 14th and 36th wards.
In the suburbs Conway lost 163,019-134,166, a margin of 28,853, with More/Fioretti taking 21.2 percent (79,847 votes). Foxx sealed the deal when she won the six black-majority townships 74,480-21,884 and liberal Evanston and Oak Park 22,072-7,098, which gave her a 67,570 -vote bulge. Game over.
The "criminal justice manifesto" is alive and well in Cook County for the next 4, maybe 8 years.