July 24, 2019
D-2 FILINGS PREVIEW AND PRESAGE UPCOMING 2020 AND 2022 POLITICAL CONTESTS
ANALYSIS & OPINION BY RUSS STEWART
A D-2 form is a beautiful thing. It is a campaign disclosure document filed quarterly with the Illinois Board of Elections by every elected officeholder in Illinois and every announced candidate.
It can be revelatory. It can spur or deter opposition. It can be the basis for an indictment. It can prove that having lots of campaign cash doesn't necessarily get somebody elected. And a whole bunch of D-2s for the quarter ending June 30 have been filed.
Attached is a fund-raising chart reflecting those filings by various Chicago Northwest Side and Northwest suburban politicians. There are some anomalies and abnormalities. Here are my takeaways. (Due to space, not every candidate is mentioned in the chart).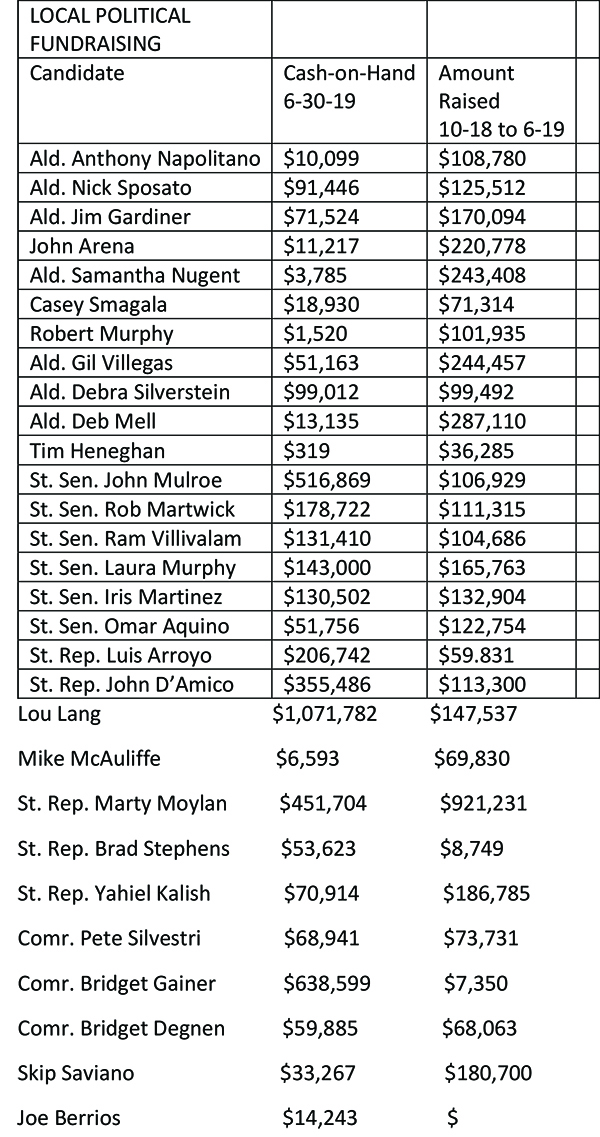 STATE'S ATTORNEY (2020): Incumbent Kim Foxx faces ongoing backlash for her handling of the Jussie Smollett non-prosecution, but she had $348,992 on-hand as of June 30, and raised $128,578 during 2019. She will need more than $1 million to win. Foxx has two prospective opponents: Bill Conway, a former Navy intelligence officer and former assistant state's attorney who can self-fund, as his father is the billionaire owner of a private equity investment firm. A $3 million anti-Foxx saturation TV buy is no problem. Also likely to run is Donna More, a former federal prosecutor who got 12.6 percent in the 2016 primary.
One candidate who won't run is 2019 Chicago mayoral loser Jerry Joyce, who got 7.2 percent on Feb. 26. D-2s indicate that Joyce had $4,206 on-hand and indebtedness of $2,353,000, of which $2,113,000 is owed to his wife, pediatrician Jannine Joyce, who made 14 large donations funding Joyce's TV buys and citywide mailings. Joyce is tapped out.
CLERK OF COURT (2020): The feds are forever poking around Dorothy Brown's job office, but Brown has survived for 19 years. She had $5,281 on-hand, and raised just $37,015 during 2019. Brown's name is well known, and she has a solid base among black-community churches and older African American voters. Four candidates want her job: (1) Attorney Jacob Meister, who had $827 on-hand, and is carrying debt of $272,200 from his losing 2016 campaign, in which he got 20.5 percent. Meister loaned himself $327,500 in 2015, and will need another $300,000-plus this year. (2) Board of Review commissioner Michael Cabonargi, who had $516,838 on-hand, but raised just $3,650 in 2019. He is seeking party slating, which will occur Aug. 15 and 16. (3) Mariyana Spyropoulos, a Metropolitan Water Reclamation District commissioner who had $283,875 on-hand, but has debt of $293,290, owed to her parents. Spyropoulos is no fund-raising machine, but could tap the Greek-American community for some dollars. (4) Iris Martinez, a 17-year state senator from the area south of Albany Park, had $130,502 on-hand and raised $96,599 in 2019. She claims that she has lined-up support from all the Hispanic committeemen. Her goal is to have a "no endorsement" at slate making. She is also running for 33rd Ward committeeman against incumbent Aaron Goldstein, who had $6,298 on-hand.
Unless another credible African American gets into the race, or unless there are some major indictments before March 17, Brown will squeak in with 30 to 33 percent in a 5-candidate field.
COUNTY BOARD PRESIDENT (2022): After getting trounced in the mayoral runoff, Toni Preckwinkle is slowly recovering her fund-raising base, but not necessarily her credibility. She has announced for re-election in 2022, and had $720 on-hand in her city account and $95,403 on-hand in her county account. She raised $4,494,253 for mayor in 2019, and $19,718 for board president. Lori Lightfoot raised $4,597,019 in the first quarter, and $2,690,786 in the second, and had $1,780,639 on-hand.
Looking to 2022, Commissioner Bridget Gainer had $638,599 on-hand. If she challenges Preckwinkle, as expected, she has over 2 years to get to $2 million.
SHERIFF (2022): Rumors are swirling that wealthy businessman and 2019 mayoral loser Willie Wilson, with a strong black community base, will run against incumbent Tom Dart in 2022. Wilson got 10.6 percent on Feb. 26. Dart had $484,427 on-hand.
10TH SUBCIRCUIT: John Mulroe resigned as state senator after his appointment as a Circuit Court judge. He must run for nomination in the March 17 primary. Given that he had $516,869 on-hand, and can legally spend that in his judicial race, potential opponents are scarce.
10TH SENATE DISTRICT: Rob Martwick, state representative until he was appointed to Mulroe's seat on June 28, had $178,722 on-hand and raised $27,290. With his contacts among tax appeal attorneys and his family wealth, Martwick will easily raise $200,000 and spend $400,000 to win a full term as senator. A potential primary opponent is Cary Capparelli, the son of a former state representative, who can self-fund. Capparelli is also pondering a race in the 20TH HOUSE DISTRICT, a seat that Mike McAuliffe (R-20) vacated and to which Rosemont Mayor Brad Stephens (R) was appointed on June 29. The Stephens family runs Rosemont like its own fiefdom, controls all levers of power, and Brad Stephens can tap into the resources of the gaming, restaurant and hotel industries. He had $53,623 on-hand, and can readily raise and spend the $1 million needed to keep the seat next November.
41ST WARD: Incumbent Anthony Napolitano swamped Tim Heneghan for alderman on Feb. 26 12,502-5,289, getting 70.3 percent. He had $10,009 on-hand, and raised $108,780 over the past three quarters. Heneghan sought the appointment to the Mulroe vacancy, had $319 on-hand, and raised $36,285. Heneghan will not run against Stephens, but if re-elected as Democratic committeeman in 2020 may run for county commissioner in 2022 against Pete Silvestri (R-9), who had $68,941 on-hand. If Silvestri retires, expect Elmwood Park mayor Skip Saviano to run.
39TH WARD: Fallout continues from Samantha Nugent's convincing defeat of ward committeeman Robert Murphy in the April 2 alderman runoff, which she won 7,469-5,876. State Representative John D'Amico (D-15), nephew of the retiring alderman Marge Laurino, backed Nugent. D-2s showed Nugent had $3,785 on-hand, and raised $243,000, while Murphy had $1,520 on-hand and raised $122,759. A third candidate, Casey Smagala, had $18,930 on-hand and raised $71,314. But the "Mr. Moneybags" title indisputably belongs to D'Amico, who had a hefty $355,486 on-hand. One of the three will take on and take out Murphy as committeeman in 2020.
If it's Nugent, she needs to dramatically step up her fund-raising, raking in at least $100-125,000 in the next two quarters. Otherwise, it will be D'Amico.
45TH WARD: Jim Gardiner beat Alderman John Arena 7,570-5,382, even though he was out-raised $220,778-$143,174. Gardiner had $71,524 on-hand, to Arena's $11,217. Arena is assiduously looking for a city job that pays well. If Gardiner challenges Arena for committeeman in 2020, he has the money to take him out.
16TH HOUSE DISTRICT: Lou Lang expected to be speaker someday, but #MeToo allegations derailed that. Lang resigned in January, taking $1,071,782 with him. His successor is Yahiel "Mark" Kalish, an Orthodox Jewish rabbi who had $70,917 on-hand, and raised $186,785 in 2019.