July 17, 2019
ALDERMAN SEEK 'CLOSURE' IN 39TH AND 45TH WARDS
ANALYSIS & OPINION BY RUSS STEWART
Former Chicago aldermen, especially defeated aldermen, are a species of pesky and hardy political critters, particularly if they remain their ward's Democratic committeeman.
A newly elected alderman cannot tolerate that status quo, and needs to have "closure," which means permanently and convincingly getting rid of their predecessor. That is a difficult process, and it is unfolding in the 45th and 39th wards on the Northwest Side, where aldermen Jim Gardiner (45th) and Samantha Nugent (39th) are trying to solidify themselves.
An aldermanic loser, especially an incumbent, invariably goes into a state of denial, humiliated and suffused with anger, certain that voters' remorse will get them their old $118,000-a year job back in 4 years. But let's be clear here, an ousted alderman is forever ousted, except in the wards where revolving-door politics is the norm.
IN THE 45TH WARD, where former alderman John Arena lost 7,570-5,382 to Gardiner on Feb. 26, there is a flurry of comeback activity, with the two-termer Arena intensely lobbying the Lightfoot administration for $100,000-plus city job, needed for at least 2 years, thereby enabling him to get a first-tier city pension.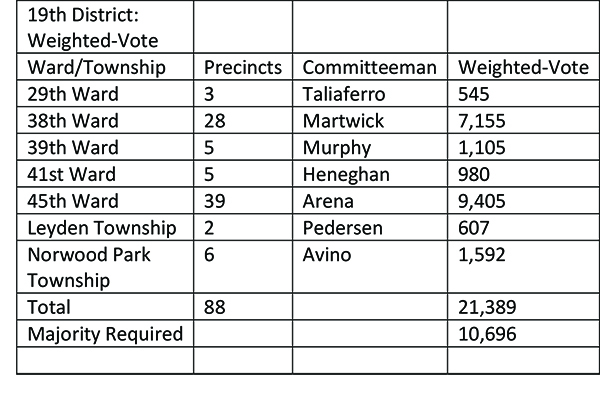 At least three area aldermen are intensely lobbying the mayor against him. Arena, however, has a fallback, positioning himself for the open 19th District state representative seat, a $68,000-a year job plus a $111 per diem for early session days, for which he, as committeeman, has 9,405 of the 10,696 weighted-votes needed to appoint him. Add to that the 1,105 39th Ward weighted-votes of his ally, Robert Murphy, who lost to Nugent 7,469-5,876 on April 2, plus Franklin Park's mayor Barrett Pedersen and Leyden Township's 607, and Arena is over the top, with 11,117, and off to Springfield he goes through the end of 2020. The 19th District meeting is expected to be held on July 25 or 26, and Arena chairs that committee.
In some eyes, this is a positive scenario for newly appointed state Senator Rob Martwick (D-10), who resigned the 19th District seat on June 28. At that meeting, both Arena and Murphy provided critical weighted-votes for Martwick, enabling him to undermine the bid of 41st Ward committeeman Tim Heneghan. Murphy and Pedersen, along with Maine Township's Laura Murphy, had committed to Heneghan, but Arena and Martwick prevailed on Robert Murphy to cave and switch.
Given Arena's enormous unpopularity, as he got only 36.22 percent against Gardiner, who got 50.95 percent, Martwick would be well-served politically NOT TO CAST his 7,155 weighted-votes for Arena, and just abstain. "I am a loyal" kind of guy, said Martwick, who is expected to support Arena if he needs the 38th Ward's votes. Heneghan and Norwood Park's Frank Avino both oppose the Arena pick. "I will do everything I can" to block Arena, promised Heneghan. But it is a done deal. If Arena does not grab the opportunity, it will mean (1) that he got a city job to his liking, and (2) that social worker Lindsey LaPointe, an Arena protege who lives in Portage Park, will get the appointment, with the backing of Arena and Martwick.
There will be trickle-down consequences.
First, Gardiner is weighing a 2020 run for committeeman against Arena, who has said he will seek re-election. "I will wait and see" what happens in the 19th District, said the alderman. "He (Arena) does not deserve" the appointment, and he "does deserve" opposition for committeeman. "He does not represent the best interests of Democrats in the (45th) ward, only his own interests," said Gardiner, who added that he "does not want to take away his energy and focus" from his aldermanic job, which would happen if he had to campaign door-to-door and raise money in the run-up to the March 20, 2020 primary. As of June 30, Gardiner had $71,524 on-hand, compared to Arena's $11,217, hardly an intimidating amount if Arena runs for two offices. If they haven't had enough of him already, some public sector unions could dump a lot of money into Arena's state rep bid, and the trade unions could dump a lot of money into his opponent's campaign, you know, to make things interesting.
Second, Arena will certainly have a 2020 primary contest, with a slew of opponents, if appointed. Martwick, in 2018 faced police officer Jeff LaPorte in the primary, spent over $300,000 in the entire election, and won 9,332-4,563, getting 67.1 percent. Martwick then defeated Republican Ammie Kessem, a police sergeant, 21,389-13,852 in the 2018 election, getting 61.3 percent, with a major issue being Martwick's tie to Arena, and Martwick's refusal to take a stand on the 5150 N. Northwest Highway project, which will bring 75 mixed-income housing units to the 45th Ward. Kessem is running again in the 19th District, and is also running for 41st Ward Republican committeeman against Michael McAuliffe, and has no cash on-hand.
And third, the 2020 Democratic presidential primary, with 23 candidates, will ignite voter interest, especially among anti-Trump voters. In the 2016 committeeman's race, Arena was unopposed and received 10,481 votes. Over 55,505 votes were cast for a delegate among 15 candidates in the 45th Ward, with Arena getting 6,042 votes as a Bernie Sanders delegate, topping the field. Will Arena go with Sanders again?
The 5th District will have 6 delegates and 6 alternate delegate slots in 2020, which theoretically means that if each presidential candidate fielded an Illinois delegate slate, there would be up to 276 people on the ballot, 12 per candidate. The Illinois primary follows the January Iowa caucuses, along with the early New Hampshire, South Carolina and Nevada primaries. A lot of contenders will have faded or quit by March 20.
The presidential race creates both opportunities and problems for Gardiner and Arena, since the committeeman race is last on the ballot, after the deluge of delegates and before the referendums. Hence, the voter complexion will be decidedly "progressive." Arena's task is to coalesce all the left-leaning liberals, get them to vote for him for state rep at the top of the ballot (fifth) and then educate and motivate them to vote for him for committeeman at the very bottom of the ballot. Gardiner's job is to avoid being identified as a conservative, and to instigate his coalition, which contains a lot of Republicans and non-leftists, to vote in the Democratic primary solely to defeat Arena two times. TWO TIMES. That is a great motivator, and could happen.
And then there is the matter of "double-dipping," which means holding two public jobs. Arena could inveigle a city job after the state rep appointment, and draw two salaries, which is legal, but frowned upon. The 2020 petition circulation period begins the second week of September, with petitions due mid-December. If Arena pulled that stunt before filing, Gardiner would definitely run.
IN THE 39TH WARD the drama is about who is going to take on and beat Murphy, who has $1,520 on-hand, along with a $76,525 campaign indebtedness owed to him and his spouse. Both Nugent and state Representative John D'Amico (D-15), her ally, want Murphy out. "One of us will run" predicted D'Amico. "I haven't made a decision," said Nugent, who, like Gardiner, claimed she is "focused on the 39th Ward" and her job duties. She added that "voters sent a clear message" in 2019 to public officials that they "must serve them and their best interests" and "not their own political interests." D'Amico has $355,486 on-hand and Nugent $3,785.
Murphy proved the valuelessness of being committeeman. He ran against Alderman Marge Laurino on 2015, attacking her as a "50 years is enough" insider. He then ran for committeeman in 2016, beating Laurino's candidate. But in 2019 he was perceived as the insider against Nugent. D'Amico, Laurino's nephew, backed Nugent. After his April 2 loss, Murphy is DOA in 2020. One who did succeed was Mary O'Connor, elected committeeman in 2008, alderman in 2011, and then defeated in 2015 by Anthony Napolitano. Mayor Emanuel then gave her a city job, so she is just 2 years short of her pension entitlement.
IN THE 10TH SENATE DISTRICT, which Martwick now occupies, and IN THE 20TH HOUSE DISTRICT, from which McAuliffe resigned in June, the prospective candidacy of Cary Capparelli is causing much consternation. It's an either/or situation. "I will circulate (nominating) petitions for both (seats)," he said, "and I will run for one of them."
Most likely it will be the McAuliffe seat, to which Brad Stephens, Rosemont's $260,000-a year mayor, was appointed on June 29. Cary Capparelli is the son of former 34-year state Representative Ralph Capparelli, who served from 1970 to 2004, and will turn age 95 this year. O'Connor beat him for committeeman in 2008, but the Capparelli name is still fondly remembered. Cary Capparelli accumulated wealth as a business entrepreneur, has a doctorate in geography, and can self-fund.
Against Martwick, who has $178,722 on-hand, Capparelli would have to wage a 7-month campaign in a senate district which includes the 19th and 20th House districts in a primary in which tons of liberals will be voting. If he runs against Stephens, he can wage a 15-month campaign, spend all of 2020 from the summer to November knocking on doors, raising money, and then be boosted by an anti-Trump wave. Stephens is no McAuliffe, a relentless precinct-walker. Stephens will sit in his Rosemont throne, raise $500,000, and pay for gobs of mailings and hordes of precinct workers. But as Nugent and Gardiner proved, at-door contact beats money every time. Stephens is no shoo-in.